Supporting the magic of your libraries
Our libraries are beautiful, dynamic spaces that grant equal access to everyone. In fact, they're the perfect place to share your passion with others!
While our public funding supports day-to-day operations, additional funding helps us flourish and grow. Today there are more great ways than ever to support TADL.
Shop at the Front Desk
We have an ever-changing assortment of gorgeous gifts for you or someone special - all available at the Main Library front desk. All proceeds directly support library programs and services.
Personalized Donations & Recognition
Honor the memory of a loved one, celebrate a special occasion or milestone, pay tribute to family or friends, or support a special hobby or passion with a donation.
Gifts of $500 or more will be placed on the donor wall in the lobby of the Main Library (Traverse City) for permanent public recognition. Gifts of $10,000 or more will be acknowledged specifically on the donor wall and, if appropriate, in the location where monies have been utilized.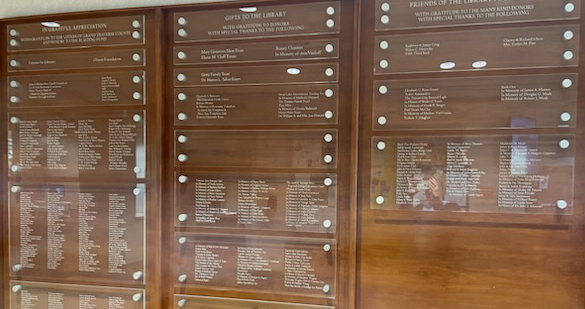 Direct Monetary Donations
Monetary donations are always welcome and appreciated! Funds may be given directly to the Traverse Area District Library. Your donation will enrich, not replace, traditional tax-based funding and allow us to expand programming and services.  Library donations are truly the definition of the gift that keeps on giving!
If you have questions about tax applicability to donations please consult your attorney or tax professional. Federal income tax deductions are available to taxpayers making charitable donations to public libraries and friends groups. State income tax credits are available to taxpayers making charitable contributions to public libraries. A tax deduction enables the taxpayer to claim a percentage of the donation made from their adjusted gross income. A tax credit is an amount of money that may be subtracted from the computed tax itself.
Significantly, public libraries automatically possess deductibility status under another provision of the Code Title 26, Subtitle A, Ch. 1, Subchapter B, Pt VI, section 170(c)(1) and 170(b)(1)(A)(v) of the Code. The issue of whether or not a public library possesses 501(c)(3) status or governmental entity status under section 170(c)(1) of the Code is moot because the federal tax benefits are identical. Regarding federal tax deductions, section 170 (c)(1) of the Code provides that a taxpayer, both an individual and a corporation, may claim an income tax deduction for charitable donations made to "[a] State, a possession of the United States, or any political subdivision of any of the foregoing, or the United States or the District of Columbia, but only if the contribution or gift is made for exclusively public purposes."
Please feel to drop in any time, we would love to see you! Checks may also be mailed to:
Traverse Area District Library
c/o Michele P. Howard, Library Director
610 Woodmere Ave.
Traverse City, MI 49686
Yes! We are always happy to direct your donation wherever you would like. Just put a note on the check, in the online donation box, or stop in.
Yes! If you've lost a loved one who cherished our library we would be honored to receive donations in their memory. Just include a note in the obituary to direct donations to the Traverse Area District Library, tadl.org/donate.
If you would like to donate by check please make it out the Traverse Area District Library. If you are making a memorial donation you may note that on the check memo line or include a note with your check.
Please mail checks to:
Traverse Area District Library
Attn: Administration
610 Woodmere Ave.
Traverse City, MI 49686
Yes! I would like to donate now.
Donating Stocks, Estate Giving
Stock or bond transfers may be handled by your broker. Please contact us if you need specific details on how to direct your donation.
If you're interested in planned giving, please discuss details with your financial advisor.
These are items staff members have included on our wishlist if donated dollars are available:
Rain barrel with spigot
Compact outdoor composter
New wheelchair (for in-building use)
Power/charging stations
Glowforge (Makerspace item)
Woodmere Youth interactive play wall
Main Library Nelson Room - new blinds, uv film
East Bay - electrical upgrades
Kingsley - additional lighting
But wait there's more - including some large projects! If you would like to talk about other wish list items please email Michele.
Amy Gray
Edd Tury
Jean Hermann
Sandra Umstead
Scott Morey
Lexa Ferrill
William Henderson
Jessica Parent
M Ueno
Megan Brocato
Sarah McCallum
Alana Mc Kinnie
Amy Barritt
C. Scott Duncanson
North Paradise Flower Club
Sara La Lumia
Cathryn Harold
Karen Jones
Dave Pennington
Lexa Ferrill
Jared Gugnitz
Alison Heins
Ann George
Jane Reintges
Janis Kissel
John Faber
Martha Clapp
Martha Vreeland
Mary Beth Gentry
Mary O. Cheney
Merilyn Ueno
Robert Green
Ryan Chenery
Susanna Haberlein
Walter Brueggemann
James Levy
Brian Aurand
Betsy Davidson
Amy Thompson
Barbara York
Bonnie Alfonso
Camron Gnass
Carol Kuhn
Julius Nagy
Nancy Dow
Susan Quillman
Lexa Ferrill
John Lev
Kathy Hughes
Barbara Papazian
Lexa Ferrill
Bill Fromm
Kelly Hagan
Joseph Nied
 
Fred Anderson
Emma Davis
Jim Sluyter
Patricia D Wade
Jill Vollbrecht
Traverse Area Historical Society
TBA Credit Union
Traverse Area Historical Society
Terry Vandercook
Catherine Mc Cullough
 
Dr. William A Howard
Patricia Ard
Bonnie Schreiber