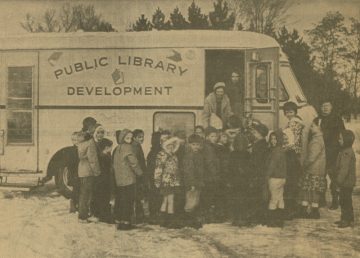 Our 1964 Bookmobile - on the front license plate of our current Bookmobile!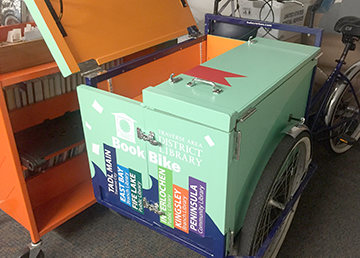 Book Bike - Ready to load with books
I'd like to be part of this project, how can I help?
During our strategic planning process many members of the community noted that they would like to see us out and about in the community. We would love YOU to be a part of it! We're building the foundation now and developing future plans, items on our immediate wish list are noted below.
Librarians will use your donations to select the books, movies, and albums for the bookmobile.
Items with an asterisk* have the option of adding a donor plaque with your name. All donors will get a TADL bookmobile vinyl sticker. Donors at the $1000 level and above will get a bookmobile t-shirt!
Dollars in this new fund will be invested and used to sustain the bookmobile program over the long term (i.e., when the vehicle needs major repair, replacement, etc.)
We'll use these special donations to purchase books and give them away to children to keep. Many children do not have books at home and having readily accessible books is key to building a lifetime of literacy and love of reading.
While the buttons are for online donations we're happy to accept donations by check too! Just mail them to:
Traverse Area District Library
Attn: Michele P. Howard, Director/Bookmobile

610 Woodmere Ave.

Traverse City, MI 49686
For planned and estate giving please see our Donate page.