About TADL on the Road
TADL's mobile options (the book bike and the bookmobile) are unique "libraries on wheels". By taking library materials directly out into our community, we strive to break down barriers of unfamiliarity and access, reaching people who cannot get to a library building due to physical, economic, social, or geographic reasons. The primary functions of our mobile options are to:
Arrange stops in areas of high concentrations of people, and for underserved groups identified in our strategic plan

Offer current popular materials and reference information for people of all ages

Promote basic literacy and a lifelong desire to read

Present programs to encourage continued use of the library, particularly for children

Introduce readers to library services

Provide personalized library service in a cozy, friendly environment

Generate a positive image of the library as a whole by being highly visible throughout the entire community
The mobile options are not intended to be a replacement to traditional library services, but rather an alternative outreach service.
Do you have a bookmobile memory to share? We'd love to hear it – just email ask@tadl.org or send it to us through Facebook.
Statistics
The Book Bike
Started as a commuting library in 2014 (History)
Available in a limited range around the vicinity of the Main Library
The Bookmobile 
Birthday April 6, 2022
Bookmobile Model (Download & Print)
Stats
Could carry over 7,000 books (if we put them in stacks to the roof)
Available for stops throughout the TADL service district.
Air-conditioned
Equipped to serve Wifi to those nearby
Often seen with Pigeon.
Watch for more school visits coming soon for Summer Library Challenge signup!
Staff members select materials for the bookmobile and the book bike based on its destination. 
Our mobile options are available inside our library taxing district for special visits, pending staff availability. The visits include a tour, explanation of library services, and materials checked out if needed. Some examples include Night Out in Kingsley, the Sara Hardy Farm Market, and more. If you're interested in learning more about how we schedule stops here is our policy.
If you would like to request a stop just email us!
Occasionally, the Bookmobile will be out of service for maintenance, holiday closings, or inclement weather. Status updates will be posted on this page and on Facebook. 
Contact Us
If you have any questions regarding TADL's mobile outreach options please call 231.932.8500 or email us.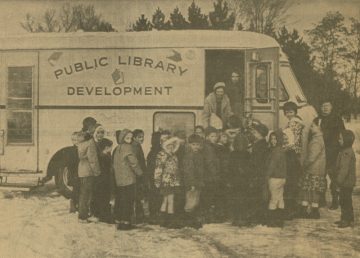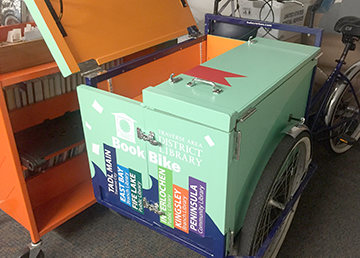 I'd like to be part of this project, how can I help?
During our strategic planning process many members of the community noted that they would like to see us out and about in the community. We would love YOU to be a part of it! We're building the foundation now and developing future plans, items on our immediate wish list are noted below.
Librarians will use your donations to select the books, movies, and albums for the bookmobile.
Items with an asterisk* have the option of adding a donor plaque with your name. All donors will get a TADL bookmobile vinyl sticker. Donors at the $1000 level and above will get a bookmobile t-shirt!
Dollars in this new fund will be invested and used to sustain the bookmobile program over the long term (i.e., when the vehicle needs major repair, replacement, etc.)
We'll use these special donations to purchase books and give them away to children to keep. Many children do not have books at home and having readily accessible books is key to building a lifetime of literacy and love of reading.
While the buttons are for online donations we're happy to accept donations by check too! Just mail them to:
Traverse Area District Library
Attn: Michele P. Howard, Director/Bookmobile

610 Woodmere Ave.

Traverse City, MI 49686
For planned and estate giving please see our Donate page.