Program Description
Event Details
The Long March Home (May 2, Revell) is a gripping coming-of-age tale of friendship, sacrifice, and the power of unrelenting hope. Based on the lives of three friends, The Long March Home follows the friends' journey from Mobile, Alabama, to the Philippines during World War II, covering not only the lives and loves they left behind but also the impossible odds they face as they struggle to survive what has become known as the Bataan Death March.
We are proud to host two New York Times bestselling authors, Marcus Brotherton and Tosca Lee via Zoom the day after the release of this book!  They will talk to us about books, writing, and The Long March Home.  Join us via Zoom by registering through the blue box.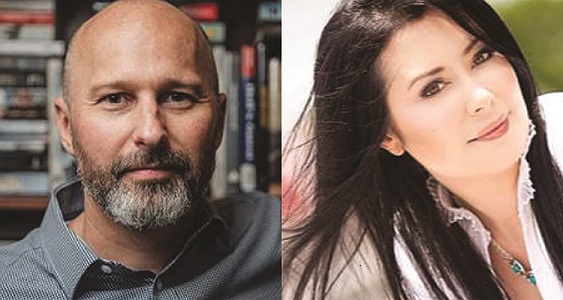 Marcus Brotherton is a New York Times bestselling author and coauthor dedicated to writing books that inspire heroics, promote empathy, and encourage noble living. His commendations include the Christopher Award for literature "that affirms the highest values of the human spirit."
Tosca Lee is the multi-award winning, New York Times, IndieBound, and Amazon bestselling author of eleven novels including The Line Between, The Progeny, Firstborn, The Legend of Sheba, Iscariot, and the Books of Mortals trilogy with New York Times bestseller Ted Dekker. Her work has been translated into seventeen languages and optioned for TV and film. A notorious night-owl, she loves movies, playing video games with her kids, and sending cheesy texts to her husband. She's also a big fan of her amazing readers.
*Photos provided from authors website.