The Traverse Area District Library serves a large community within the Northland Library Cooperative (see map below). Residents within the outlined area are able to get a library card and check out physical items from the library.  Counties within the Northland Library Cooperative include Alcona, Antrim, Benzie, Charlevoix, Cheboygan, Emmet, Grand Traverse, Kalkaska, Leelanau, Montmorency, Oscoda, Otsego, Presque Isle and Wexford.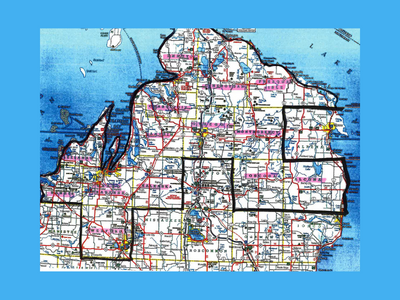 Resources the library subscribes to have licenses that require TADL to limit access to patrons whose tax dollars specifically come to the Traverse Area District Library.  Currently, the taxing district includes Grand Traverse County and three contractual townships Inland, Almira (Benzie County) and Elmwood (Leelanau County).
If you live outside of the TADL taxing district and would like to access resources such as ebooks, downloadable audio and digital magazines, contact your nearest library.  Most likely, they will have access to the same or similar resources TADL has.  Once you have permissions, you can access the resources anywhere.