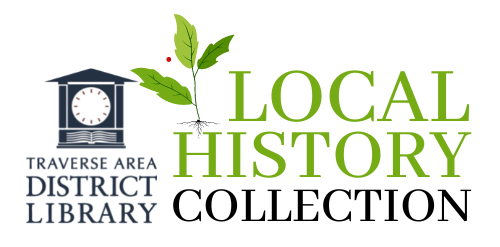 The Local History Collection is a closed collection of materials housed in the Main Library. If you have a question or research request, please email ask@tadl.org.
610 Woodmere Ave. Traverse City, MI 49686
For Local History Collection questions contact the Reference Desk (231.932.8502) or send an email.
Ancestry Library Edition Genealogy research tool provided by The Friends of TADL – Only available to use at library locations.
MyHeritage Library Edition Family history resource including more than 6 billion historical ​records from the United States, Europe, Latin America, and other regions. Includes the full USA federal census (1790-1940); census of England and Wales (1841-1901); U.S. World War II Army Enlistment as well as records of Union and Confederate Civil War soldiers. Over 2 billion family trees.
Newspaper Archive Historical collection of Michigan newspapers, including the Traverse City Record-Eagle
TADL Local History Collection Digital collection of local manuscript and published works, including photographs, yearbooks, plat maps, postcards and newspapers
Michiganology.org is a partnership between the Archives of Michigan and the Library of Michigan delivering more than 10 million records online. 
MI State Hospital Project is an educational project that uses oral histories and archival photographs to explore and preserve the history of Michigan's State Hospitals
A self-guided walk for local history created through a partnership with the Traverse City Arts Commission, TC Downtown Development Authority, Traverse Area Historical Society, and Traverse Area District Library, launched in October 2019. A series of ten plaques featuring photos from "then" next to the landscape of "now" are displayed throughout Downtown Traverse City along East and West Front, State, Cass, and Union Streets.
Videos
Missed a program? Click here for our complete local history video playlist, which includes programs by the Traverse Area Historical Society and more. Links to our YouTube channel TADLTv.
Other Area History Websites
Accessing Items
You can browse the digital collection at any time using the links on this page! Physical items are not available to browse.
Our Local History Collection is an archive of rare and unique materials. As with any archive there are required standards and procedures to keep these older materials safe that prohibit open browsing. For more information about accessing items in the collection please contact the Reference Desk either in person, by phone, or via ask@tadl.org.
It is possible to see items in person. We usually require 72 hours notice and require that a research request be submitted. Click here to download the research request form.
For more information about accessing items in the collection, please contact the Reference Desk in person, by phone, or via ask@tadl.org.
Most of TADL's family history and genealogical resources are located in our reference Genealogy Collection on the second floor of the Woodmere Library. If you come to visit us, you can also access Ancestry, MyHeritage, and search for obituaries in the Traverse City Record Eagle using NewspaperArchive.
Donating Items & Volunteering
Thank you for being interested in volunteering! To get started please visit https://www.tadl.org/volunteer and fill out the online form. Make sure you check Local History under the Interests section. We have a lot of identification and transcription work that can be done at your pace, on your own computer, directly from home!
The Local History Collection archive is specifically aligned for Grand Traverse County history. If you have items you are interested in donating please contact the Reference Desk either in person, by phone, or via ask@tadl.org. We'll discuss the opportunity with you and evaluate whether the item(s) are suited for this archive.
Any items accepted for the collection must be accompanied by this deed of gift form.
Use, Credits & Citations
As a general rule, due to the age of the items, photocopies are not permitted. Taking pictures of items with your smartphone or tablet is allowed.
Most of the images from the collections of Traverse Area District Library Local History Collection published in our digital repository (localhistory.tadl.org) may be downloaded and reused without permission in any format for purposes of research, private study, education (non-commercial use), and commercial use. 
A small percentage of images have image rights that are retained by the donor. If you do not see a designation in the "Rights" field of an image, we will be happy to help confirm if the image is available for your use. Please contact us at ask@tadl.org.
When using the images, please credit "Traverse Area District Library Local History Collection" and include the catalog URL of the item to allow others to access the original image or document. Here is an example for citing image #5178:
"Image courtesy of Traverse Area District Library Local History Collection, https://localhistory.tadl.org/items/show/14906. Image 5178"