Please note you are looking at an event that has already happened.
Program Description
Event Details
Do you like to read or listen to audiobooks across all genres? Do you like to talk about books, or just listen? Join the Tuesdays @ Two book discussion group on the last Tuesday of each month from 2pm to 3pm in the McGuire Room. We encourage a mix of Talking Book Library and public library patrons!
The book selection this month is: : "The cold dish" by Craig Johnson DB 69906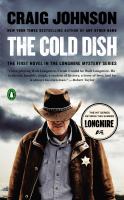 Summary: Two years earlier, four high school boys were given suspended sentences for raping a Cheyenne girl. Now, two of the boys have been killed, and only Sheriff Walt Longmire can keep the other two safe.