Please note you are looking at an event that has already happened.
Program Description
Event Details
Do you like to read or listen to audiobooks across all genres? Do you like to talk about books, or just listen? Join the Tuesdays @ Two book discussion group on the last Tuesday of each month from 2pm to 3pm in the McGuire Room. We encourage a mix of Talking Book Library and public library patrons!
The book selection this month is: : "Remarkably bright creatures" by Shelby Van Pelt DB 107924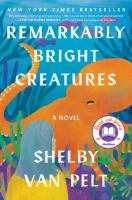 Summary: After Tova Sullivan's husband died, she began working the night shift cleaning at the Sowell Bay Aquarium. Tova becomes acquainted with curmudgeonly Marcellus, a giant Pacific octopus living at the aquarium. Marcellus knows more than anyone can imagine but wouldn't dream of lifting one of his eight arms for his human captors--until he forms a remarkable friendship with Tova.